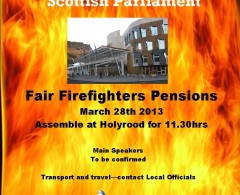 The FBU will be holding a rally and demonstration at the Scottish Parliament on 28 March. Details of travel arrangements will be listed on this site and through local officials. A good attendance is required as we press our campiagn for, Affordable, sustainable and fair pensions. Further details will follow. A pdf flyer is available for printing and placing on notice boards. The General Secretary is now confirmed as a speaker
The Scottish Committee met on Friday (15/3/13) and were given an update on the current position around pensions. Our National Officer leading the campaign, Sean Starbuck addressed the meeting and advised that there had been some discussion around the Normal Pension Age Review (available from Related Content) but we were still waiting for a formal response from the UK Govt. We are anticipating the regulations increasing the member contribution rates being submitted to the various Parliaments.
Mininster for Community Safety, Roseanna Cunningham has written to the UK Government Under Secretary of State for CLG on the topic of firefighter pension normal pension age (NPA). The letter is available in the "Related Content" but highlights include statements such as; "The review does not appear to give unequivocal support for the proposed firefighters' NPA of 60", "We believe that pension reform should be taken forward in partnership with public sector workers rather than being imposed by Treasury direction"
Scottish Govt Condemned over pensions increase The Fire Brigades Union Scotland today condemned the Scottish Government decision to increase pension contributions for Scotland's firefighters. The passing on of the members contribution increases in line with UK Government adds at least 1.3% to the amount firefighters pay towards their pensions
Pages